The Rural Transit Dial-A-Ride is a paratransit, curb-to-curb service for any persons (anyone under 12 years of age must be accompanied by an adult), in the 17 towns it serves.
Transportation is provided to nutrition programs, medical appointments, shopping and other social and personal purposes. Group excursions may also be arranged.
YOU'RE SAFE WITH US
We'll get you there with
Dial-A-Ride.
RESERVE TODAY
(860) 489-2535
Open to the public throught Northwest CT:
Barkhamsted
Canaan, Falls Village, Sharon & Salisbury
Colebrook
Harwinton
Kent & Warren
Morris
New Hartford
Norfolk (Wednesdays Only)
Torrington
Winchester & Winsted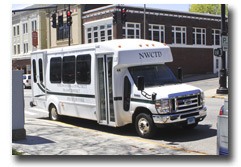 Riding The Dial-A-Ride Bus
Be ready for pick-up at least 30-minutes ahead of the scheduled pick-up time, because scheduled times are approximate.
Get on the bus and pay the fare to the driver.
Driver will drop you off at the scheduled destination. If you are a "will call" client, the bus driver will give you a phone number to call when you are ready.