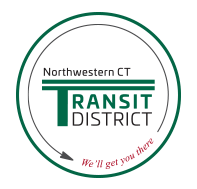 The Northwestern CT Transit Board of Directors meets on the 3rd Wednesday of the Month at 1:45PM
Coming Soon! Keep an Eye Out for Our New Vehicle Look!
Northwestern Connecticut Transit District is looking for drivers for the Torrington CANDYSTRIPER routes. Public Service license is a must.
To apply online click here or to apply in-person go to 957 East Main Street, Torrington, CT 06790.
Candystriper Local Bus Service
The CANDYSTRIPER is a Local Bus Service (Deviated Flexible Route Service) available in Torrington, Winsted and Litchfield; Monday through Friday; and also Torrington Saturday is operated by Northwestern Connecticut Transit District.
The local bus service is a deviated flexible route service, which means the bus will travel 3/4 mile off its local bus route, upon request, to pick up riders. Call (203) 753-2538 ext. 1 the day before travel to make arrangements for pick-up. You can also request drop-off within 3/4 mile of the bus route when you are on the bus; the driver will try to accommodate your request within 30 minutes.
Commuter bus service provides access to jobs in Torrington, Monday through Friday.
All vehicles are wheelchair accessible.
Click here to obtain bus route scheduled times and locations.
Dial-A-Ride Curb-To-Curb Transportation Service
The Rural Transit Dial-A-Ride is a paratransit van, curb-to-curb transportation service provided by Northwest CT Transit District. Available to people of all ages, in the (17) towns throughout Northwest CT. Anyone under (12) years of age must be accompanied by an adult.
Transportation is provided to nutrition programs, medical appointments, shopping and for other social and personal purposes. Group excursions may also be arranged.
All vehicles are wheelchair accessible.
Rural Independent Transportation System (Rits)
Northwestern CT Transit District, Geer, and EdAdvance are partnering with the NHCOG to provide expanded service to the elderly and disabled for non-emergency medical trips.
If you or someone you know is elderly or disabled and needs a ride to a medical facility for non-emergency treatment (e.g. dialysis, radiation, burn treatment, pulmonary rehab), please contact the designated service provider for your town to arrange a ride. Calls should be made at least 48 hours in advance of the medical appointment.
All vehicles are wheelchair accessible.
Click here to obtain information and/or to make a reservation. (PDF)